V-8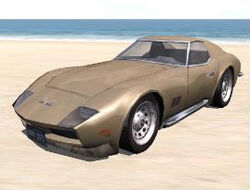 Vehicle Class
Found in
Top Speed

76.470588235294

130mph
Horsepower

295 hp
Weight

3,425 lbs.
Engine Type

V-8
Displacement

5,735 cc
Wheelbase

2.49 m
Ride Rating

3 / 3
The V-8 is a 2-door muscle car featured in Driv3r. It is based on a 1973 Chevrolet Corvette C3.
Description
Edit
Although based on the Corvette C3, its headlights aren't hidden and they might be derived from the 2007 Ford Interceptor concept, albeit smaller.
The vehicle is mistakenly listed as the '80 Redline V-8 in the official strategy guide.
Tanner was meant to park a black V-8 in the garage during The Hit. This can be seen in the trailers.
Vehicles in Driv3r
Miami
Sedans/Luxury/Muscle cars
Sports cars
Trucks/SUVs
Commercial
Motorcycles
Boats
Trains/Trams
Nice
Small Hatchbacks
Sedans/Luxury/Muscle cars
Sports cars
Trucks/SUVs
Commercial
Motorcycles
Boats
Istanbul
Small Hatchbacks
Sedans/Luxury/Muscle cars
Sports cars
Trucks/SUVs
Commercial
Motorcycles
Boats
Trains/Trams