Tobias Jones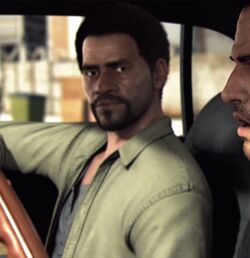 Tobias Jones
Tobias Jones is Tanner's partner and his closest friend in the Driver series. He is the secondary protagonist in most of the Driver Series.
In Driver 2, Tanner and Jones are working with the Chicago Police Department tracking down a guy named Pink Lenny. Pink Lenny was a money man for a gangster named Solomon Caine, but has defected and now works for Caine's rival, Alvaro Vasquez. In Chicago, Tanner and Jones follow up various leads to find out where Lenny is headed next. Jones gets into some trouble with the Brazilians. Due to this, Jones and Tanner escape to Havana.
In Havana, Jones and Tanner discover that Vasquez is shipping weapons in Havana. Jones offers to dig up information on the shipments and a mysterious person named Rosanna Soto. Jones discovers four cars in the city that could potentially have a file on Rosanna Soto. While Tanner is working on Rosanna Soto, Jones has tracked down Caine's hitman Jericho to Havana. Tanner meets up with Jones and tails Jericho.
In Vegas, Tanner and Jones hand Jericho back to Caine in exchange for doing a few jobs for him. With the Las Vegas Police Department figuring Jones as one of the Brazilians, Jones decides to infiltrate Vasquez' gang & asks Tanner to take him to the airport. Under heavy police pursuit, Tanner manages to drop Jones off at the airport so he can go to Rio. In Rio, Jones has found out that they're moving Lenny very soon and has a plan to get the details on where they're moving him to. However, Tanner warns Jones against staying in Rio any longer. Eventually, Jones gets into a shootout at a water tower and is wounded. He urges Tanner to chase down the gunman. Somehow, Jones manages to survive his wounds.
In this game, Jones is voiced by Antonio Fargas, who also appeared in a commercial for the original Driver.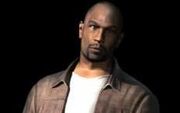 In Driv3r, Jones is once again partnered with Tanner and serves as the narrator for the game's cutscenes. He and Tanner respond to a call regarding Baccus, a major car thief. The situation gets messy when Baccus takes a hostage, forcing Tanner to chase Baccus down and killing him. Later on, Jones and Tanner discuss a plan to steal a Corvette from the Gold Coast Hotel and deliver it to Calita, the leader of the South Beach car theft ring. After Tanner gets into the gang, he and Jones discuss South Beach's plans to ship some stolen cars to Europe.
For some reason, Jones is not present in Nice, but returns for Istanbul. While in Istanbul, Vauban thinks Tanner killed Dubois and sends the Istanbul police after him and Jones. Now rogue agents, Tanner decides to follow up a lead on The Bagman and pursue an arms dealer in order to find out information on a deal that Lomaz is putting together. Tanner then decides to pursue Calita while Jones goes after The Bagman. While Jones is pursuing The Bagman, he is ambushed by some gangsters, but manages to escape after a heavy firefight. However, since Tanner captured Calita, the two are back in the good graces of Vauban and the Istanbul Police Department. Jones and Tanner then decide to set up surveillance in order to catch Jericho. After a while, they spot Jericho with an explosives truck. Jones and Tanner pursue the truck and stop it, but Jericho isn't in the truck, so the two split up. Jones decides to meet up with Vauban for the final showdown. Jones  survived the shootout.
In this game, Jones is voiced by Ving Rhames.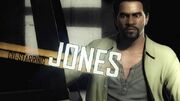 Driver: San Francisco
Edit
Six months after the Istanbul shootout, Jones continues to work alongside Tanner in San Francisco. He is mostly seen in Tanner's hospital room after he is put into coma when they severely crashed while chasing the escaped Jericho. However, in Tanner's dream world, Jones works alongside him in bringing Jericho down. He gives Tanner his Camaro when he wakes up from his coma and goes after Jericho. In a warehouse, just before Tanner and Jericho are about to collide head-on, Jones appears in a police SUV and collides right into Jericho's pickup truck, implying that he had been put into a coma, like Tanner had been before.
Driver: You Are the Wheelman