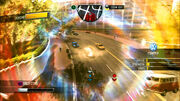 Shifting is the main ability in Driver: San Francisco. It allows Tanner to change cars at any time.
After Tanner has learned the ability to shift, he can now shift to any car he can choose.
To enter Shift, players need to press a button in order to access the menu. They can view missions, dares, and garages around San Fran.
As players progress to the story, Shifting levels up, adding more view to San Francisco.
Another variation of Shift, Rapid Shift, allows players to shift back and forth to another car marked. For example, if there are two cars chasing a felon, players can press a button to rapidly shift into the other one.
In the final mission, Deja Vu, Tanner changes his shifting ability, from swapping cars to throwing them to Jericho.
After Tanner's car was crashed by a truck that led him into a coma, he discovers the ability to shift to other people, retaining the persona and the mind. He first shifts into an ambulance, then to his car again, and finally civilian cars.
Jericho can also shift, but stronger than Tanner. He can shift into 2 or more cars to ram Tanner.
Ad blocker interference detected!
Wikia is a free-to-use site that makes money from advertising. We have a modified experience for viewers using ad blockers

Wikia is not accessible if you've made further modifications. Remove the custom ad blocker rule(s) and the page will load as expected.