The Schweizer is a four door sedan in
Driver: Parallel Lines
.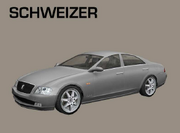 Based on a luxurious European sedan, the Schweizer front lamp and grills resembles a Maybach 57. The bodywork, roof, and tail light resembles more of a Mercedes Benz CLS. The rims are somewhat derived from a Mercedes, but the "S" logo somewhat resembles the SsangYong Logo
PerformancesEdit
The Schweizer based on a loud, V8 engine. Top speed is good, acceleration is good, but the handling suffers a bit of oversteer. Crash deformation is good, making it as one of the best car for getaway.
Mission AppearancesEdit
It appears in the mission "Gauntlet", where you escort Maria to a meeting, and also as Corrigan's bodyguard vehicle if you ambushed by them in some missions of the 2006 era.
Schweizer Racer: racing variant of the Schweizer.
LocationsEdit
Commonly spawns in commercial and residential area of Queens, Brooklyn, Manhattan, and New Jersey.