Description
Edit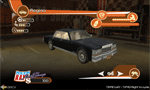 The Regina is an 4-door executive luxury sedan in Driver Parallel Lines. It's based on a Cadillac Seville and a Cadillac DeVille (1980s model).
It features a mostly similar design to the Zartex, only its grill and width are big changes to the Zartex. Mostly square and boxy fascias are present.
Performance
Edit
Its performance is below its counterpart, the Zartex:
Top speed: 84 MPH
Handling: Similar to the Zartez, only slight slower to turn.
Locations
Edit
Seen commonly in Manhattan cruising in the Down Town areas
La Guardia Airport Car parks
A station wagon with the same name appears in the Grand Theft Auto Series.