Miami Bus
GM TDH 5303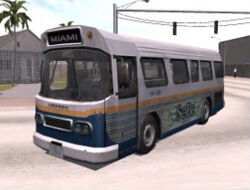 Vehicle Class
Found in
Top Speed

43.529411764706

74mph
Horsepower

240 hp
Weight

10,412 lbs.
Engine Type

Diesel
Displacement

5,900 cc
Wheelbase

4.23 m
Ride Rating

1 / 3
TODO

description of car
The Miami Bus is a city bus featured in Driv3r as a drivable vehicle. It is almost identical to the 1960 GM TDH-5302. It only comes in 1 variation, being white with a yellow stripe and blue undertone. It also has advertisements on the side.
Performance
Edit
As being a bus, the performance is very sluggish, having slow acceleration, and a low top speed. But, to make up for this, it is extremely strong, and can withstand many crashes and soak up many bullets before the engine ultimately quiting. It also has low grip, due to it being a top heavy vehicle, it always feels as if it has no grip.
Locations
Edit
Found all over Miami.
In 2005 you don't see the 1960 GM TDH-5302 in real life. But Despite the fact you can still see them in the streets of Miami in Driv3r

Vehicles in Driv3r
Miami
Sedans/Luxury/Muscle cars
Sports cars
Trucks/SUVs
Commercial
Motorcycles
Boats
Trains/Trams
Nice
Small Hatchbacks
Sedans/Luxury/Muscle cars
Sports cars
Trucks/SUVs
Commercial
Motorcycles
Boats
Istanbul
Small Hatchbacks
Sedans/Luxury/Muscle cars
Sports cars
Trucks/SUVs
Commercial
Motorcycles
Boats
Trains/Trams