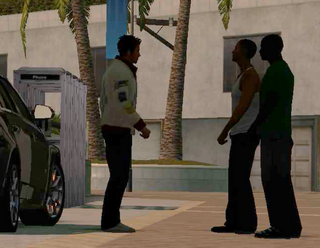 "Meet the heat" is one of the first city missions in the game. The icon of the mission is a police badge, indicating that it is a chase mission. In the beginning, the player must loose the cops to meet the unidentified person. Once the cops are gone, get to the destination.
Information
Edit
Type: Chase
Car: Chevrolet Camaro Z26
Main Objective: Lose the cops and meet with Jericho's Gang
Playable Character: Darius Spencer
Others: Ordell Williams
Conversation
Edit
Ordell: Darius, we can't lead the cops to this meet.
Darius: Why not? Jericho's guys will take care of 'em.
Ordell: Then they'll take care of us too, you dumbass! And if we don't make the meet, Jimmy's gonna kill us. We gotta shake 'em ourselves.
Objectives
Edit
e.g.: 2 red zones around the car (mini-map), 2 cop cars tailing to you
Note: If you are 150wm towards the destination, a message occurs "Lose the Cops." If you are in a close call, lose them now! If you have no way to escape, they will bust you in 10secs. If you're away from the red zone in the mini-map. 10secs will be counted to escape from cops.
Movie Conversations
Edit
Tanner: This kid Ordell is trying to work his way up Jericho's organization? I can't let this opportunity slip by - I'm gonna have to help him any way I can.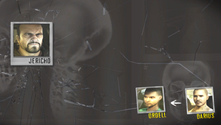 2nd Investigation Edit
"Ordell Williams and Darius Spencer. Small fry but they're working for Jericho's crew. Worth keeping my eye on."
-John Tanner
Mission Trivia
Edit
This is the only level where Williams is an NCP.
This is the first city mission that has a strong connection to the investigation, the other is Wrecked Evidence.
Ad blocker interference detected!
Wikia is a free-to-use site that makes money from advertising. We have a modified experience for viewers using ad blockers

Wikia is not accessible if you've made further modifications. Remove the custom ad blocker rule(s) and the page will load as expected.