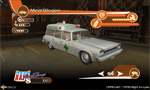 Meat Wagon is an ambulance of the 1978 era in Driver: Parallel Lines & Driver 76. The Meat Wagon is based from the 1973 Buick Electra 225 and is similar to the ambulance on the 1960-1970 era, such as the use of a hearse as the base body, raised rooftops, and big chromed sirens. It is very common.
In the Playstation 2/Xbox version, the cross & text on the car is red, while in the PC/Wii version, it's green. In Driver 76, the text is red, while the cross is black.
For some reason, the Meat Wagon has a European siren.
Ad blocker interference detected!
Wikia is a free-to-use site that makes money from advertising. We have a modified experience for viewers using ad blockers

Wikia is not accessible if you've made further modifications. Remove the custom ad blocker rule(s) and the page will load as expected.