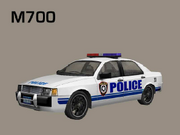 M700 is an "4 Door Sedan " Police car in Driver: Parallel Lines at 2006 era .
The M700 police car is based on the 2003 Ford Crown Victoria Police Interceptor Concept that was displayed at the 2002 New York International Auto Show. The siren is slightly lower pitched, and much like the Zartex, it has only one style, the iconic loop. When heavily damaged, the sirens will cut out, making a cartoons style cut out, used in films.
In game is model edited from back n "NYPD" is replaced with "Police".
In real life is model bigger and dont have orange emergency lights.
Top Speed : 159 KM / H
Acceleration : 10 Seconds
Handling is like a Torrex handling only faster.