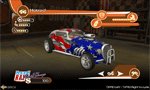 Hotrod is a rare vehicle in Driver: Parallel Lines during the 2006 era. It is also featured in Driver 76.
Hotrod is based on a 1933 Ford V8.
Maximum Speed : 197 KM / H
Acceleration : 9 Seconds
The fastest car in Driver: Parallel Lines.
Driver: Parallel Lines - Either get 1st place at "Driver GP Long Island" (2006) or collect all 100 Stars (50 in 1978, 50 in 2006).
Driver 76 - Complete every single side mission, including the Driver GP in both Manhattan & Long Island.
Ad blocker interference detected!
Wikia is a free-to-use site that makes money from advertising. We have a modified experience for viewers using ad blockers

Wikia is not accessible if you've made further modifications. Remove the custom ad blocker rule(s) and the page will load as expected.