1968 Ford Mustang GT Fastback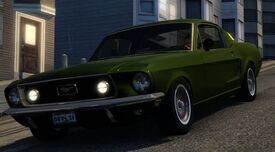 Vehicle Class
Horsepower

390 hp
2008 Ford Mustang Convertible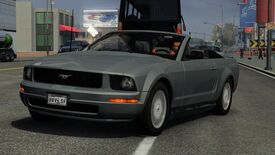 Vehicle Class
Horsepower

300 hp
The Ford Mustang is an automobile manufactured by the Ford Motor Company. It was initially based on the second generation North American Ford Falcon, a compact car.[1] Introduced early on April 17, 1964,[2] as a "1964½" model, the 1965 Mustang was the automaker's most successful launch since the Model A.[3]The model is Ford's third oldest nameplate in production[citation needed] and has undergone several transformations to its current fifth generation.
The Mustang created the "pony car" class of American automobiles—sports car-like coupes with long hoods and short rear decks[4]—and gave rise to competitors such as GM's Chevrolet Camaro,[5] AMC's Javelin,[6] and Chrysler's revamped Plymouth Barracuda.[7] It also inspired coupés such as the Toyota Celica and Ford Capri, which were exported to the United States. The GT series is high performance model of For Mustang. It has a lot of engine option from Windsor 289 V8 to the mighty BOSS 429 V8 model.
In Driver : You Are The Wheelman
Edit
It's only shown in begining cutscene where Tanner steal it in parking lot and later it chased by Ford Fairmont Police car. It based on 1967 hardtop model.
In DRIV3R
Edit
Tanner drive it once in mission "Dodge Island". It painted in red with white stripe. It's identified as 1969-1970 BOSS 302 or BOSS 429 model. It has very good top speed and medium acceleration. The handling is better than any other muscle car but it still a bit slippery. It only available in Miami.
In Driv3r beta, the front was a little bit different than the final version. In the beta, it looks like 1967 Mustang GT.
In Driver : Parallel Lines
Edit
A car named "Brooklyn" is based on 1965 Ford Mustang GT Fastback or Hardtop coupe model. It has speed of 90 mph when in standard condition. After tune up it can hit 120 mph with very fast acceleration and 140 mph after tune up with nitrous.The car handling is very responsive but slippery make this car is hard to control when using a nitrous.
In Driver : San Francisco
Edit
There are 3 type of Mustang in this game : 1968 GT Fastback (Unlock after complete Sprint Activity 8), 1973 Mach 1 (Unlock after complete Sprint Activity 6) and 2008 Convertible (Unlock after complete Team Race Activity 1)model. Those 3 got a good performance and good for getaway job. The 1968 model has "Highland green" paint job make it look's like a Mustang in "Bullit" movie driven by Steve McQueen. and the 1973 Mach 1 model got a yellow paint job make it look's like a Mustang in 1974 original "Gone in 60 Second".
Performance
Edit
First Generation ModelEditEdit
Year : 1968
Engine : Ford 427 Cu FE Series Power : 390 Hp @ 5600
Torque : 420 ft-lbs @ 3200
Transmission : 3 Speed Automatic and 4 Speed Manual 0-60 mph : 5.4 Sec Top Speed : 141 mph
Fifth Generation ModelEditEdit
Year : 2008
Engine : Ford Modular V8 4.6 L Power : 300 Hp @ 5750 Torque : 320 ft-lbs @ 4500
Transmission : Tremec TR3650 5 Speed Manual 0-60 mph : 5.3 Sec Top Speed : 158 mph (estimated) 143 mph (claim)
1968 Ford Mustang GT Fastback
Edit
1973 Ford Mustang Mach 1
Edit
2008 Ford Mustang Convertible
Edit