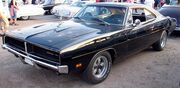 The 1969 Dodge Charger R/T is a vehicle in Driver: San Francisco. It was likely included in the game as a reference to the classic television show, The Dukes of Hazzard, which starred a similar car.
Appearance & Performance
Edit
The Charger in the game is the 1969 model. It has the 1969-only chrome split grill and the changed tail lights that were carried over to the 1970 model. 
Performance-wise, this car has good acceleration and absolutely excellent drifting ability, but suffers from very low grip and a tendency to spin out if driven too fast. It is slightly slower than Tanner's Challenger R/T. Because of this, it can be assumed that it has the 440 V8.
Specifications
Edit
Engine: 440 c.i.d. RB V8
Power: 375 horsepower
Torque: 490 lb.-ft.
Transmission: 4-speed manual
Cost: 15,000 WP
Ad blocker interference detected!
Wikia is a free-to-use site that makes money from advertising. We have a modified experience for viewers using ad blockers

Wikia is not accessible if you've made further modifications. Remove the custom ad blocker rule(s) and the page will load as expected.