Dart Retaliator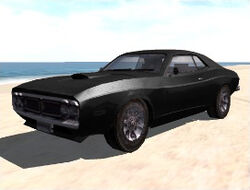 Vehicle Class
Found in
Top Speed

76.470588235294

130mph
Horsepower

303 hp
Weight

3,426 lbs.
Engine Type

V-8
Displacement

6,286 cc
Wheelbase

2.66 m
Ride Rating

2 / 3
The Dart Retaliator is a 2-door muscle car featured in Driv3r. It is based on a 1970 Dodge Challenger.
Tanner owns a black Retaliator. It can be seen in the intro video during the "6 months earlier" portion.
The general shape of the car and the back look very similar to a vehicle in Stuntman, another Reflections game.
Vehicles in Driv3r
Miami
Sedans/Luxury/Muscle cars
Sports cars
Trucks/SUVs
Commercial
Motorcycles
Boats
Trains/Trams
Nice
Small Hatchbacks
Sedans/Luxury/Muscle cars
Sports cars
Trucks/SUVs
Commercial
Motorcycles
Boats
Istanbul
Small Hatchbacks
Sedans/Luxury/Muscle cars
Sports cars
Trucks/SUVs
Commercial
Motorcycles
Boats
Trains/Trams