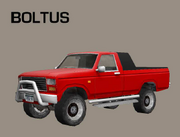 Description
Edit
Boltus is a pickup truck featured in Driver: Parallel Lines. It has a rather soft suspension and a considerably tall ground clearance. In the game, the bed's covered with a black tonneau cover.
If you look closely, the car runs on Toyo Open Country A/T tires.
The design is similar to the Land Roamer except the headlights are slighty different from the Land Roamer headlights.
This vehicle is requested by Ray in a 2006 mission.